Best Auto Dialer Software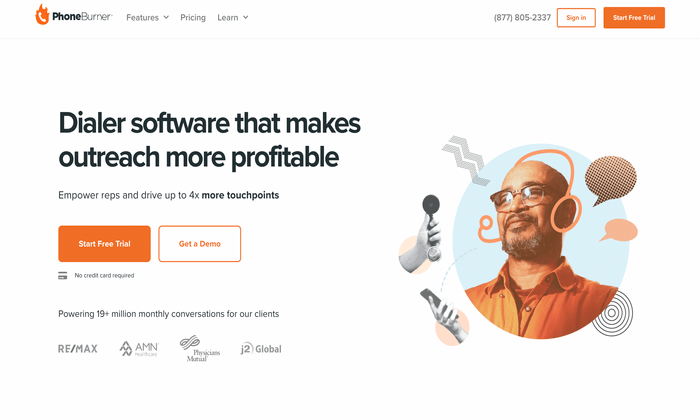 Disclosure: This content is reader-supported, which means if you click on some of our links that we may earn a commission.
Want to jump right to the point? Nextiva is my top pick for the best auto dialer software.
The best auto dialer software makes it easy for agents to manage calls at scale.
These tools eliminate manual tasks, so your team can focus more on converting leads while everything gets tracked automatically.
Auto dialers help agents close more sales, help managers track real-time performance metrics, and ensure customers get called at the perfect time. Everyone wins.
I've narrowed down my favorite auto dialer tools that I can confidently recommend for specific use cases. Continue below to find the best option for you.
#1 – Nextiva Review — The Best for Calling Quickly Within Your CRM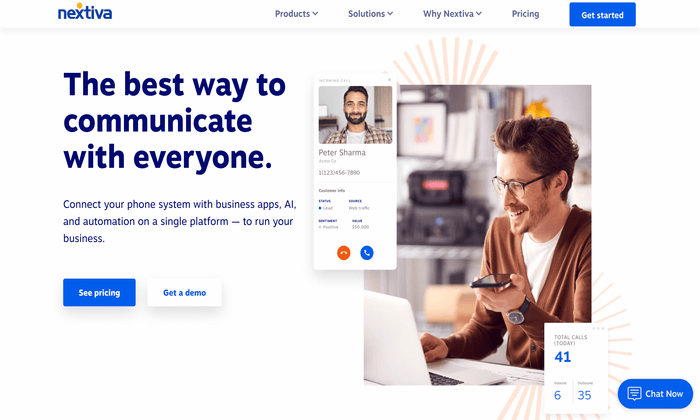 I like a good auto dialer, but I love my CRM more.
And while many auto dialers can integrate with my CRM (and others just have their own built-in), I prefer the approach Nextiva takes to make outbound calling more efficient.
Other auto dialers don't seem to sync as cleanly as Nextiva does with HubSpot, Zendesk, Salesforce, and all the other big names in the CRM space. And, though Nextiva doesn't offer a true auto dialer with their VoIP communications platform, integration with any CRM unlocks super useful one-click calling.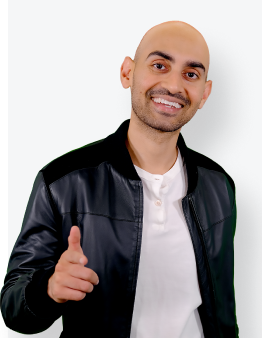 See How My Agency Can Drive Massive Amounts of Traffic to Your Website
SEO – unlock massive amounts of SEO traffic. See real results.
Content Marketing – our team creates epic content that will get shared, get links, and attract traffic.
Paid Media – effective paid strategies with clear ROI.
So, instead of a program churning through a list for reps, you can use the segmented lists in your CRM, share those with reps, and they can just click the phone icon next to each contact to immediately initiate a call in Nextiva.
You can even do the same when searching your whole contact list. Search for any qualification, segment, or demographic split and then dial away, one click at a time.
Nextiva's telephony syncs with your CRM through Go Integrator, which is why it's so easy to use one tool in the other.
Not only do you insert one-click Nextiva calling into your CRM, but it enhances Nextiva's call and contact pop as well. Reps get a quicker view of each contact they're calling and get that same benefit with inbound calls as well.
So, although not a "true" auto dialer, Nextiva's one-click calling still massively streamlines your efforts and improves your reps' output—especially if you've already been smart enough to segment your CRM contacts into targeted lists.
This all comes as part of Nextiva's all-encompassing VoIP solution. I love that you can get this benefit while also improving your overall communications through Nextiva's voice and video calling, texting, team messaging, and faxing.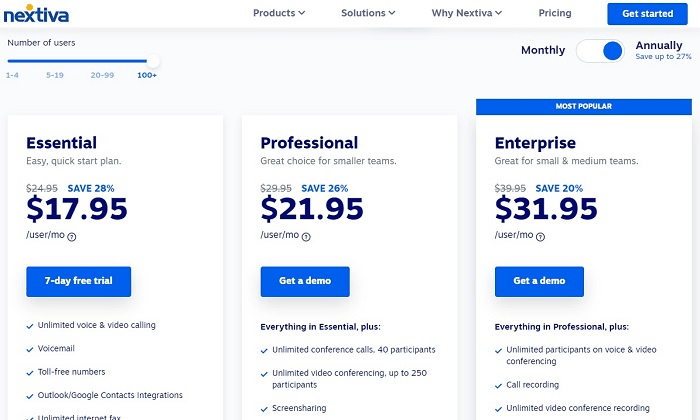 To properly wield Nextiva's CRM integration, you'll need either the Professional or Enterprise plan which are both currently on sale for a limited time.
The former allows for syncing with the big names in CRM: HubSpot, Salesforce, and Zendesk. If you're using Oracle Sales Cloud, ServiceNow, or others, go for the latter. There's only a $10 difference between the plans, which both scale in overall cost based on the number of users.
Professional starts at $21.95 per user per month for a team of 100 or more. Fewer users raise that rate a bit, up to $27.95 per user per month for a tiny team of four or fewer.
If you're like me and your CRM is the beating heart of your sales efforts, go with the VoIP solution that brings out the best in your CRM and your reps—go with Nextiva.
#2 – PhoneBurner Review — The Best If Your Sales Team Isn't In An Office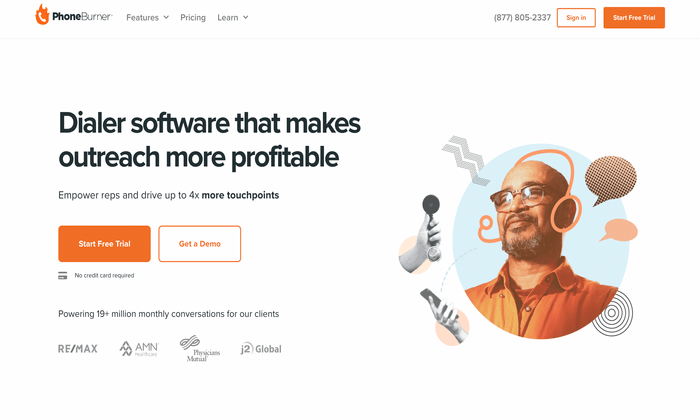 Need an auto dialer that works whether people are in the office or not? PhoneBurner should be one of the first tools you check out.
There's no special equipment necessary. Employees can log into the dialing platform from their browser or call in from their phone. From there, they can start to make 60-80 calls per hour. All the wasted time from manual dialing is gone.
There is no lag in the calls between when a person answers and your reps start talking. It's not like someone knows they're receiving a call from an auto dialer, which does a lot to help first impressions. Get the call-quality you'd expect from an office landline anywhere you call from.
Using the PhoneBurner interface is stupid simple. Critical information is prominently displayed, and any action a rep needs to take has been streamlined. With one click, they can drop a voicemail, log a call, send an email follow-up, and more.
There's a lot you can do to automate workflows in PhoneBurner, but no code to worry about. Everything is handled with clicks. Move prospects automatically from one group to another based on whether an agent reaches them, gets a busy signal, or hits a fax machine.
That's just one small example, but sorts of post-call busy work can be completely eliminated. Now it will take some setup. But once all of your configurations and phone scripts are ready, they can be shared easily in PhoneBurner.
These collaborative features become really important when employees aren't always in the office. Admins can add seats that are perfectly tuned for new employees with the click of a button.
Managing a high-volume of calls in PhoneBurner's LeadStream platform is no problem for supervisors. This is crucial considering a small team will be making several hundred calls an hour.
Selecting distribution types will depend on the nature of the call. Do you want to divide up leads evenly or make sure your most experienced agents are getting the hottest leads?
There's no need to be in an office to make sure that every lead is getting the attention it deserves.
Every call is tracked in PhoneBurner's built-in CRM. It's easy to stay organized, monitor agent performance, and manage contact lists. Alternatively, you can connect PhoneBurner to your own CRM. There's a direct integration with Salesforce, and connections via Zapier to hundreds of other apps.
For my part, I think of PhoneBurner as a suite of best-in-breed outreach tools. Reps love to use it because the platform has been trimmed down to the essential features. There's no clutter, and every feature available does exactly what it needs to.
Sending an email or text followup is one click. And unlike many other platforms, reps will be able to tell which emails have been opened. Work those metrics into your calling lists to hit contacts that are showing interest.
PhoneBurner is an all-in platform. You're not paying extra for per-minute charges. There are simply no hidden fees and admin accounts are free unless they want to dial
MORE = https://neilpatel.com/blog/best-auto-dialer-software/