Content Marketing Made Simple: A Step-by-Step Guide
Do you know what this is?
This, my friend, is one of the greatest examples of content marketing of all time.
I bet that when you hear "content marketing," you think about blogs, Twitter, Facebook, and viral YouTube videos.
But content marketing has been around far longer than the Internet.
Why?
Because content marketing is all about storytelling,and humans have told stories for as long as they could speak. Our attention will always go to those who tell great stories.
When Hasbro and Marvel cooperated to launch their comic book series "G.I. Joe – A Real American Hero!"in 1982, their marketing strategy was simple.
They wanted to create what Kenner Toy Company's Star Wars action figures already had: A rich backstory for their action figures.
Within two months of releasing the first comic book, about 20% of their target audience, boys between the ages of five and twelve, had two or more G.I. Joe toys. And at that point, the comic book only had two stories.
Seven years later, the series was one of Marvel's strongest titles, and two out of three boys in the same age category owned at least one G.I. Joe action figure.
How's that for using content to market a product?
A lot has changed since then, and what worked back in the 80s won't necessarily work today. However, with new marketing channels like social media popping up almost daily, opportunity is knocking.
So, let's take a look at what content marketing means now in my content marketing guide. Feel free to skip ahead if one topic catches your eye:
Definition of Content Marketing
The Content Marketing Institute defines content marketing as:
… a strategic marketing approach focused on creating and distributing valuable, relevant and consistent content to attract and retain a clearly-defined audience — and, ultimately, to drive profitable customer action.
Their definition is solid in my opinion. But it could use some clarity.
It means that content marketing is a long-term strategy that focuses on building a strong relationship with your target audience by giving them high-quality content that is very relevant to them on a consistent basis.
Eventually, when customers make a purchase decision, their loyalty already lies with you. They will purchase your productand prefer it over competitors' options.
In contrast to one-off advertising, content marketing shows that you actually care about your customers.
Today, more than ever before, people want to feel like you care about them. The world is louder and noisier than ever before, and attention is our most valuable resource.
Keep that in mind as we take a look at some of the different types of content marketing.

Content Marketing Overview
When Joe Pulizzi founded the Content Marketing Institute in 2010, I don't think he knew exactly how spot-on he would be, let alone how successful CMI would become.
They are one of the top resources when it comes to content marketing statistics. And, they've created a great video overview of the evolution of content marketing:
Since the foundation of content marketing is simply high-quality content and storytelling, you can already see that the activity has been around longer than the term itself.
There's still plenty to learn from those first offline content marketing activities that pre-date the Internet, social media, and the like.
However, any successful content marketing campaign today can hardly ignore the online part.
Because storytelling has changed over the years, the attention of people stretches to more places than a few years ago, and marketers have to make sure that they tell stories in the year we actually live in.
There are three major categories where you can put content marketing efforts these days: online, offline, and hybrids.
The best way to learn how to be a great content marketer is by example.
That's why I'll show you 15 great examples of content marketing in all categories. Then, you can model them, tweak them, and apply them to your own businesses.
First, though, I'm going to show you how you can create a content marketing strategy. Then, you can use the examples at the end for inspiration.

Strategy
Tons of different content marketing strategies exist today.
In the beginning of the content marketing world, that wasn't the case. At one time, marketers had few options. They essentially only had bandit signs, magazines, and newspaper ads.
Even in those days, however, they had a variety of different custom choices.
They could play with the words in their advertisements, the picture they showed, the placement of it, and the CTA.
In other words, although there were few content marketing methods, the options were still remarkably vast.
Today, more content marketing mediums and methods exist than ever before in the history of the world. That means that the number of strategies is even greater.
One online publication suggests using the "3D Content" model, for instance.
Basically, it's three individual steps.
Map the content to the pain point.
Then use the right type of content for that problem.
Finally, map the content to the buying cycle of the people who have that problem.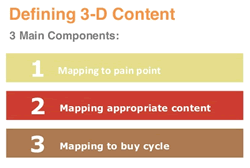 This strategy is a way to move the focus away from the marketer and to the person that the marketer is trying to reach.
That, after all, is an incredibly important step to take in your own content marketing strategy.
If your content doesn't cater to the right people with the right problem that your product solves, then your content marketing efforts are all for not.
Of course, you'll probably want to adapt this to fit your own audience and marketing theories.
Whatever the case, though, you should always start with your audience.
You must create content for that audience. Then, and only then, will the right people pay attention to you.
According to the source itself — Content Marketing Institute— here are the tips you should follow when creating a content marketing strategy.
Notice, in particular, this tip: "Your strategy should outline your key business and customer needs, and how your content efforts will address them."
What does that mean?
It means that you need to understand your customers, prospects, and audience. Once you do, you can then create content that solves their problems and grows your business