Clemenger Media Sales
Australia's home of niche media.
IF you want to invest in the media, buy advertising, develop your own content: we are your portal. We have the most media clients of any media buying agency in Australia.
Clemenger Media Sales clients are Australia's media: dozens of media, niche publishers, radio advertising to outdoor advertising, to digital advertising.
What advertising do you want?
What media, what target market do you want to own.
We have them all: fishing advertising to government advertising, advertising in women's magazine, want to buy advertising online – into a business news portal; want to buy advertising on a property investor website, want advertising in a luxury travel magazine; on the luxury travel website.
What advertising do you want to invest in?
We are not your normal media buying agency; we already have the special deals with the media; exclusive media partnerships you cannot get anywhere else. They are contracted to Clemenger Media Sales.
CMS wants to help you drive your advertising dollar further.
The following is to help you learn (but we are the experts / ask / anytime…
Instagram Adds 'Recently Deleted' Folder For Removed Content
Instagram will now send content removed from user profiles to a 'Recently Deleted' folder where it can be reviewed and restored.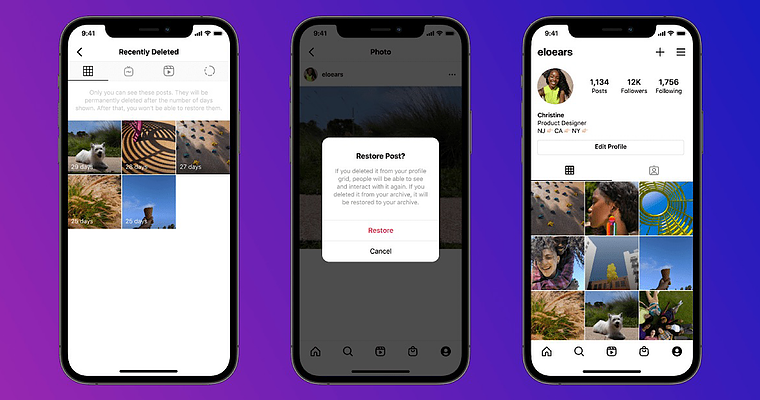 Instagram is adding a 'Recently Deleted' folder which gives users an opportunity to review their removed content before permanently deleting it.
Now, when users remove content from their account, it is immediately sent to Recently Deleted.
From there the content can be deleted permanently. Or, if users change their mind and wish to put the content back on their profile, they can restore it from the Recently Deleted folder.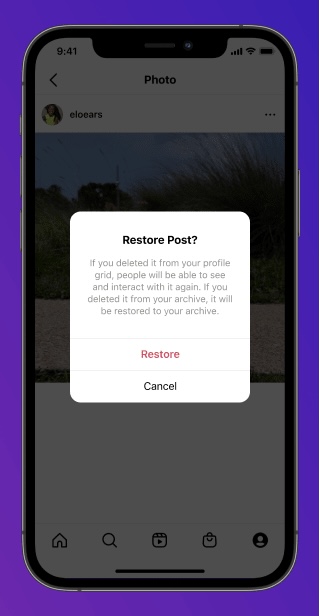 The folder will include content like:
Photos and videos from your Profile
Photos and videos from your Instagram story
Instagram stories from highlights and your story archive
Reels
Direct Messages
Everything sent to the Recently Deleted folder will be automatically removed after 30 days, except for stories which will stay in the folder for up to 24 hours from when they were published.
If at any point within those 30 days users wish to review what they deleted they can access the folder by going to Settings > Account > Recently Deleted.
Make sure your Instagram app is updated to the latest version before relying on the Recently Deleted folder to save your content.
Another Use Case For 'Recently Deleted'
This folder is sure to be helpful when users change their mind about deleting content, but Instagram points out another use for it.
Instagram notes how the Recently Deleted folder can protect users' content in the event that their account gets hacked.
Sometimes hackers will delete content, leaving users without a way to get it back if it's not stored on their phone.
In addition to introducing the Recently Deleted folder, Instagram is introducing safeguards against permanently deleting content.
Users will be required to prove they're the account owner before either deleting or restoring content from the Recently Deleted folder.
Instagram Archive vs. Recently Deleted
Instagram says the Recently Deleted folder is a feature that's regularly requested by users.
That's interesting because the Instagram app has always had something similar in the form of account archives.
Previously, if users wanted to remove content from their profile but not delete it forever, they could archive it.
Archived content can be restored and/or permanently deleted at any time. From my understanding there's no limit to how much content can be archived by a single account, nor is there a limit to how long content can stay archived.
In theory users could archive every piece of content they wish to remove and have the option to restore it days, months, or even years later. When content is archived it's not accessible to anyone besides the user who published it.
In many ways the Instagram archive is better than the Recently Deleted folder when it comes to saving users' content. That is, if users remember to manually archive their content.
An advantage of Recently Deleted is it's automatic. There's no need to remember to use it because it's done for you. If you accidentally delete a piece of content instead of restoring it, it can be saved.
The Instagram archive isn't going anywhere though, which means it can be used as a backup option. If you find the 30 days provided by the Recently Deleted folder isn't enough, you can always send content to the archive instead.
Source: Instagram Blog
https://www.searchenginejournal.com/instagram-adds-recently-deleted-folder-for-removed-content/395082/
Clemenger Media Sales, CMS, is Australia's home of niche media.
Australia has hundreds of smaller niche publications. These consumer and business / trade publications play the most vital role within each of their specific industries.
IF you are a business and want to connect with your target market these media, publications, news portals are the key to managing stakeholders, customers, prospects.
Content marketing is vital, advertising is vital, working with the media to sell you as a market leader is key to ongoing profitability / communications management / demand management.
Be the message about a new product, a pending sale, a merger, a rebranding; what is the message – if you have a message you need the media.
Clemenger / CMS is your key to advertising, marketing, media, sales.
We give you the news to help you live and learn; BEST Tony Clemenger.