Outsourced Sales and Contract Sales Leader, Sales Partnerships, Inc. Awarded a Grand Stevie Award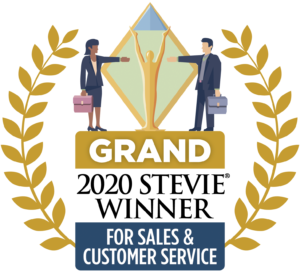 Outsourced sales and contract sales leader, Sales Partnerships Inc (SPI), was presented with 4 Gold ("Best in Class") Stevie Awards along with a Grand Stevie Award at the 14th annual Stevie Awards for Sales & Customer Service on February 28th, 2020.
The Stevies awarded SPI as the Top Field Sales Team in America, Top Sales Outsourcing Provider Worldwide, Top Sales Recruitment Initiative in America, and Top Sales Distinction in America. SPI was also recognized as fielding the top sales and operations teams in financial services, for exceptional sales achievements in financial services sales, best use of technology for field sales optimization, and top sales distinction of the year for having success selling financial products to more than 1M brick and mortar U.S. businesses face to face. The Top 10 Awards are ten best-of-competition prizes that were presented to the organizations that submit the best collection of entries to the Stevie Awards for Sales & Customer Service. SPI was awarded a Grand Stevie Award trophy.
The Stevie Awards for Sales & Customer Service are the world's top honors for customer service, contact center, business development, and sales professionals. Some of the largest companies in the world from locations in more than 45 countries were judged for accomplishments throughout 2019 with the groups with the highest scores receiving the top award in their respective categories. Thousands of nominations were judged in specialized categories this year, the most ever submitted for consideration. The award winners were announced February 28th, 2020 at an awards gala at Caesar's Palace in Las Vegas, Nevada. Video of the award ceremony can be found via the Stevies main site and on the Stevies YouTube channel.
This year's awards included global leaders, IBM, DHL, HomeServe USA, Delta Vacations, Dell and more.
We've spent 20 years selling for Fortune 500 companies. The core reason these organizations choose us is because we optimize every possible element of the selling process. This ranges from quantifying recruiting metrics to get better hires to predictive systems to identify where reps will need training before their numbers fall. Getting recognized by the Stevies as the top field sales organization overall and as the top sales outsourcing provider is a great recognition that helps us expand awareness of our industry. Our goal is to introduce domestic outsourced sales to new industries who may have never considered it before. Combining their internal teams with us to fill in gaps by product, industry, or geography is the key to maximizing market share.
SPI's Chief Sales Officer, Fred Kessler
The 2020 Stevie Awards marks the 12th consecutive year Sales Partnerships has earned top honors in sales. To see the complete list of 2020 Stevie Award winners, they can be found here.
2020 SPI Gold Winner YouTube interviews:
https://youtu.be/oO0pZYR0tmQ
https://youtu.be/QBz5bH4uGHA
https://youtu.be/oYv3NwAELJw
https://youtu.be/vTH3ida_Bc0
About Sales Partnerships, Inc.
Sales Partnerships is the most-awarded sales and marketing outsourcing organization in North America. As a turn-key sales solution for our clients, we build, train, and manage the teams using SPI's award-winning systems and close deals for you under your brand. Founded in 1997, SPI has earned recognitions for innovation in sales solutions and technologies to optimize sales performance. That relentless focus allows SPI to deploy nationwide teams in weeks while successfully beating quotas that our clients need (with the industry's highest quality control ratings). For more information, visit https://www.salespartnerships.com
About the Stevie Awards
Stevie Awards are conferred in seven programs: the Asia-Pacific Stevie Awards, the German Stevie Awards, The American Business Awards®, The International Business Awards®, the Stevie Awards for Great Employers, the Stevie Awards for Women in Business and the Stevie Awards for Sales & Customer Service. Stevie Awards competitions receive more than 12,000 entries each year from organizations in more than 70 nations. Honoring organizations of all types and sizes and the people behind them, the Stevies recognize outstanding performances in the workplace worldwide. Learn more about the Stevie Awards at http://www.stevieawards.com.