What We Learned at Content Marketing World 2020: A #CMWorld Twitter Chat with Kim Moutsos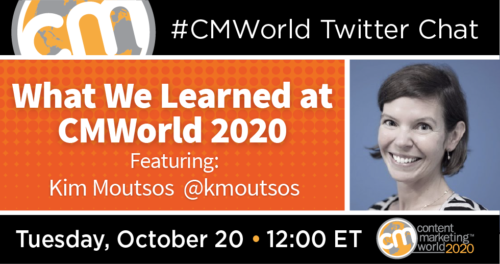 It's thrilling. It's exciting. It's glitzy. But it's not Vegas. What happens at Content Marketing World should not stay at Content Marketing World! Our speakers generously share their expertise. Our attendees talk about their learnings. And every year, our community gathers a week after the event to chat about how we can act.
CMI's Vice President of Editorial Kim Moutsos and Vice President of Marketing Cathy McPhillips (behind the CMI Twitter handle) led a terrific post-conference conversation on a recent #CMWorld chat. What follows is a brief recap. There was so much information exchanged that we curated all of the tweets sent during the fast-paced hour. Be sure to check out our Twitter Moments, split into two parts: Questions 1-4 and Questions 5-7.
studioID's Alex Cheeseman says the most dangerous words in modern business are "we've always done it this way." What are ways leaders can inspire a culture of change?
A2. b. He also said: "As content marketers we absolutely must aspire to greatness." Be willing to do a reality check – are we aspiring to greatness (and how close are we getting?) #CMWorld

— Kim Moutsos (@KMoutsos) October 20, 2020
A2) Embrace a 'fail forward' approach to content ideas. There is no such thing as actual failure if you are learning from the experience. #CMWorld https://t.co/TOW4RenMWK

— Pamela Muldoon (@pamelamuldoon) October 20, 2020
A2: This is a systems question, and those are undoubtedly tough to address, since so much builds on them. As a leader, it is your duty to assess the system as you assess employees. What can be improved? What is great & must be championed? And finally, what must change? #CMWorld

— Rachel Wendte (@rkwendte) October 20, 2020
A2: Change can't happen without vocalized support from leaders. Their employees won't speak up or suggest ideas if they aren't confident that their bosses are OK with it. #cmworld

— Ann Gynn (@anngynn) October 20, 2020
Starting a blog taught Luvvie Ajayi Jones how to speak the truth "out loud in public without shame." How can marketers be truthtellers and be more strategic in creating more authentic content for our audiences?
A5. I think @luvvie herself gave us a great answer. Use a decision-making matrix about the truth you're telling. She suggested: Do I mean it? Can I defend it? Can I say it thoughtfully or with love? #CMWorld

— Kim Moutsos (@KMoutsos) October 20, 2020
A5: One rule we have is to use academic rigor when citing sources. Always go to the primary research study, learn the facts and link directly. Never take a quote from a news article citing a study and provide that secondary source as fact. #CMWorld https://t.co/HLIV2ljqyL

— Leah Ryder (@leahryder) October 20, 2020
A5 I think you have to use social and content tools as a person, so you know what the experience is like, and can find your own voice. Too many marketers "hide" behind their brand and they miss out. Being a person teaches you how to be more human and authentic. #cmworld

— Martin Lieberman (@martinlieberman) October 20, 2020
A5 Stop writing for the 'metrics,' to meet 'best practices,' or 'appease all sides.' This just creates bland, unremarkable noise in a very loud world.

Being authentic requires honesty and vulnerability. All the time. #CMWorld https://t.co/pfX9oYJb4m

— Creatively brave. ???? (@bhrome) October 20, 2020
At CMWorld, Sydni Craig-Hart talked about the opportunity we have to be advocates for diversity every single day: "Lead from where you sit, no matter what your title happens to be." What is one actionable thing you can do today to help bring about more inclusion in content?
A6 I loved the @sydnicraighart talk. Awareness is one important step. Keep track of the people you're talking to and inviting into your content. Look at the list. Are they all similar (roles, ages, race, etc.). If so, you're missing important perspectives. #CMWorld

— Kim Moutsos (@KMoutsos) October 20, 2020
A6 Follow someone with a different perspective than you (social media, email newsletter, etc.) and whom you were not inclined to follow in the past.#CMWorld

Hi ???? @SydniCraigHart! https://t.co/ifxvWJisfD

— Dennis Shiao ✍️ (@dshiao) October 21, 2020
A6: Go, go, do. When we go we show others they can too. #CMWorld

— Steven Diaz (@mrstevendiaz) October 20, 2020
A6) A small but significant act of inclusion is to acknowledge privileged or underrepresented groups. Ex: Including your pronouns in your email signature/when speaking is a minor change to say "I see you". #cmworld

— OnePitch (@onepitchsaas) October 20, 2020
What was your most memorable CMWorld moment? What keynote or session inspired you? Tell us in the comments below.
CMWorld may be over, but the learning doesn't have to stop! CMI offers in-depth instruction year-round. Check out Content Marketing University, our Whitepaper Library, and our schedule of free webinars.
What We Learned at Content Marketing World 2020: A #CMWorld Twitter Chat with Kim Moutsos