Clemenger Media Sales – Australia's home of niche media.
Clemenger Media Sales is an advertising and media sales agency.
Our exclusive rights to advertising and editorial content packages, in niche and specialist publications, will help you achieve your marketing goals and grow your business.
Project or annual packages.
Through Clemenger Media Sales, each of our publications can put together a package of paid advertising, content, and digital assets, designed to give you an edge over your competition. Either for a short term project or for a longer programme of appearances, we can make you look a category leader to a niche target audience.
Exclusive offers
Want to see an interview with your CEO featured on the front cover of a business magazine?
How about a series of articles about your product or service, spread throughout the year, combined with a supporting ad campaign?
Like a place for your content to actually be seen by the right target audience?
Can we integrate your digital campaign into the online version of a niche magazine with a highly targeted audience?
Want to see what a mix of niche magazines aimed at your target audience would look like?
We can do that.
And more. We have over 50, highly targeted, niche publications that can offer extraordinary opportunities for your business to raise its profile.
Value for money. Laser focussed. Minimal wastage. Economic CPMs.
Let us put a proposal together for you.
Fasten Your Seatbelt! Our 2022 Theme is: Drive Forward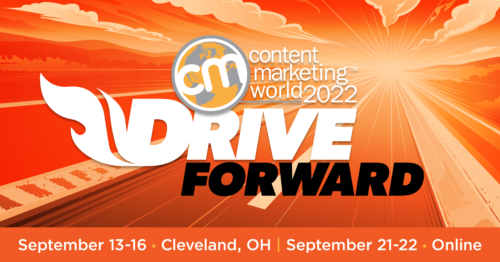 Let's face it, the past two years have not been easy. Although the pandemic shined a light on the power of content marketing, we've all confronted moments of uncertainty, the need to rethink plans, and the pressure to excel with limited resources (and hours in the day).
At Content Marketing World 2022, we want to put those times in the rearview mirror and celebrate forward momentum. That's why we chose this year's theme as Drive Forward. Because when you join us at CMWorld, you'll find the tools, ideas, and inspiration to prepare for a bright future ahead.
Fuel Your Business – Generating quality leads. Improving conversions. Retaining loyal customers. It's the goal of all our content – and CMWorld is the place to get actionable advice on developing and executing a strategy that drives profit for your business.
Speed Up Your Career – Learning about the latest content marketing innovations from the innovators themselves. Whether you're just starting out or you're a seasoned pro, what better way to advance your knowledge and give your career an edge?
Refill Your Tank – When you attend CMWorld, you become part of a community of thousands of marketers from all over the world. The support, idea-sharing, and camaraderie you'll find within this community is sure to re-energize you and infuse new inspiration into your work.
When you enter the doors of CMWorld this year, you'll find an experience brought to life with forward motion – and the education and connections to drive your future success in content marketing. You'll also have a lot of fun!
So get ready to hit the road to Cleveland this September. We can't wait to see you there!
Registration is now open and early bird rates are in effect through June 24, 2022. If travel isn't in the cards for you, check out the Virtual Experience Pass.
Posted May 20, 2022 in: Event by Amie Cangelosi…
Clemenger, Clemenger Media Sales, Clemenger Media Sales is Australia's home of niche media.
CMS is Australia's best media buying agency – which target market do you want to own?
CMS is content marketing, media sponsorship, advertising sales.
Clemenger brings you the advertising, marketing, media news; so you can maximise your advertising ROI.
Invest where your prospects live; buy the media where your customers live; we will help with your media buying.
If you want help with buying media, buying advertising, call or email.
Clemenger, CMS, Clemenger Media Sales – this is the article link = THANKS.